Area Information
The lake region of North Florida is a wonderful place to live. With the hundreds of lakes and rural character of the area, we have a wealth of recreation opportunities and a quality of life not found in many areas of the United States today.
We are a Real Estate Multiple Listing Network (MLN) of Brokers and Appraisers serving the Lake Region of North Central Florida. This area includes S. W. Clay County, N.W. Putnam County, N. E. Alachua County and all of Bradford County.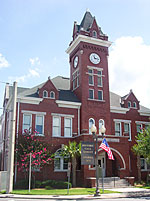 Sante Fe Comm College
The region is conveniently located within driving distances to North and Central Florida metropolitan areas and the vast variety of economic, educational and recreational opportunities they offer. We have access to the many cultural, plus the professional and collegiate sports act ivies they provide. Travel time by car is one hour North to Jacksonville, 30 minutes to Gainesville and the University of Florida, 2 hours south to Orlando and its many theme parks, 45 minutes south to Ocala and horse country, 30 minutes to the St. Johns River, 1 hour to the Atlantic coast and 1.5 hours to the Gulf Coast.
Our area offers a multitude of recreation and outdoor activities. Wild life and nature abounds. Hundreds of fresh water lakes and rivers that range from the crystal clear swimming lakes to great fishing lakes ringed with huge cypress trees draped with Spanish moss. Swimming, fishing, hunting, boating. water skiing, golfing, State Parks and State Wild Life Management areas makes the enjoyment of the great outdoors a way of life here. Because of the lakes and relatively higher elevation than the surrounding areas of the state, our climate tends to be cooler in the summer and warmer in the winter.
If you are a family with children our local school systems great and are second to none. There a 4 community colleges serving the area and the University of Florida undergraduate and graduate programs in Gainesville. In addition, the proxicinity to the educational and job opportunities offer by the nearby metropolitan areas make commuting a breeze and career development yours for the taking . It's a great place to raise a family, work and further your career.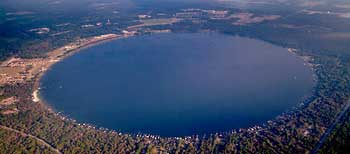 Kingsley Lake, The Premier Recreational Lake in the World
For retirees who want a high quality of life and low cost of living we offer an ideal location. Our health care systems are top notched. From the excellent hospitals in Jacksonville, which includes the Mayo Clinic, the National ranked Shands teaching and research hospital at the University of Florida and the VA Hospitals in Gainesville and Lake City. Access to high quality Health Care is not a issue here.
Check us out. Contact any of the participating Real Estate Brokers Offices listed on this web site for more information. Many offer free brochures and maps. So please contact us and let us assist you in anyway.